Writing and a Walk in the Park in Bridgton, ME
What is it about errands that makes me feel that I need to be in a hurry to get them done? For all the hundreds of times I've been to Bridgton to shop, I can't believe it's taken me this long to take the time to walk through Pondicherry Park.
Sixty-six acres of woodlands and streams right in the heart of Bridgton! 2.3 miles of easy trails. I was delighted to find this not-so-hidden gem.
As I walked along the network of trails, I thought about the middle grade novel I'm working on. (I do my best writing while walking and hope I remember all the stellar ideas I have when I get home so I can actually write them down.)
I was lost in thought and birdsong and light filtering through leaves, when all of a sudden I see:
the cover of HOLD THIS written by Carolyn Cory Scoppettone and illustrated by Priscilla Alpaugh in a waterproof sign at child's height.
Pages of the book were set along an easy path for children to read.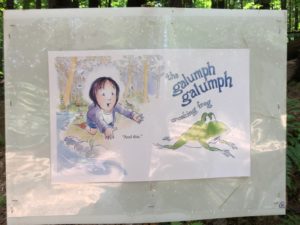 Walking, writing, nature, children's books–four of my favorite things in one place! My errands could wait.