A big part of being a children's author besides working on my own projects is to be a supportive member of the children's writing community. This includes going to local book stores for book launches and signings. Not a hard thing to do if you love children's books and their creators as much as I do! So this weekend I went to a few author events in Portland, Maine.
I started out Friday evening at the Maine Historical Society for Pat Davidson Reef's launch of BERNARD LANGLAIS REVISITED, a visual biography for young people and art lovers of all ages about a beloved Maine artist.
This gorgeous well-written book inspires me to visit Langlais Sculpture Preserve created on the grounds of the late artist's home in Cushing with its more than 65 wooden sculptures and the Langlais Art Trail.
On Saturday, I took my granddaughter to Longfellow Books to pick up a copy of JUST LIKE RUBE GOLDBERG: THE INCREDIBLE TRUE STORY OF THE MAN BEHIND THE MACHINES by fellow Vermont College alum Sarah Aronson.
Next up was Jennifer Richards Jacobson who was signing copies of her new picture book THIS IS MY ROOM (NO TIGERS ALLOWED) at Sherman's Books. Jennifer is a good friend and author of many acclaimed books for children.
THIS IS MY ROOM is a story about JoJo who's determined to sleep alone in her room, in spite of the menagerie of animals who keep scaring her. It's a super fun read for kids and the adults who read to them with a satisfying surprise ending. The illustrations are perfect!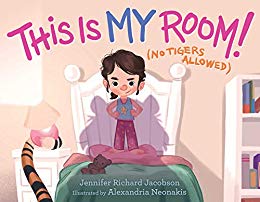 And at the end of the day I went to Print Bookstore for Megan Frazer Blakemore's launch of THE  STORY WEB, her latest middle grade novel. I'm excited to read this book which promises to weave fantasy with reality and show how the truths we tell can change the world. Check out Megan's description of THE STORY WEB on her website:
I'm lucky to live in a city that has so many local book stores who support authors from Maine and "away." There's so much amazing literature out there competing for our attention–which book should we read next, which new author should we try, etc. The local bookstore is a good place to start! I encourage you to check out your local bookstores' events, buy books and support authors!