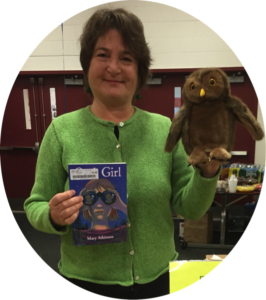 Writing has always been a huge part of my life. I've been writing stories, poems, and plays from the time I could hold a pencil. I started keeping a diary in third grade and haven't stopped since.
When I was five-years old, my uncle gave me A Child's Garden of Verses, by Robert Louis Stevenson. It was the first book I had for my very own. I was already skipping around to nursery rhymes, but that book introduced me to poetry. When, in fifth grade, we had to memorize a poem every week, I never complained!
Right after I finished high school in Boston, MA I went to live in Spain for two years before going to Antioch College in Yellow Springs, OH. Those two years in Madrid opened up new worlds for me. I loved learning Spanish and experiencing new cultures. I was inspired to learn about Hispanic cultures in Central, South, and North America.
For many years I was a teacher. I loved working with my students, but a life of writing and raising my own children kept tugging at my sleeve. I decided to work as a freelance writer and educational consultant to allow more time for my own writing.
My teaching experience includes 10 years of teaching Spanish from elementary school through college and being third grade classroom teacher in a bilingual setting.
As an educational consultant and writer, I worked on the following projects:
Center for Collaborative Education, Boston, MA—writing, editing, and managing production of six Turning Points Guides, New England Small Schools Manual, Disney Toolkit on Professional Collaborative Cultures, as well as marketing presentations and additional training materials
Massachusetts Department of Education, Malden, MA—Co-writer of the World Languages Curriculum Framework, Instruction and Curriculum Specialist involved in educational reform initiatives including Curriculum Frameworks, Restructuring Schools, Professional Development, Statewide Assessment
Southeast Educational Development Laboratory, Austin, TX—Consultant/Writer for Project ExCELL's Curriculum Framework in Languages Other Than English for the state of Texas
My poetry for children has appeared in magazines and anthologies, and my fiction and non-fiction have been published widely in educational markets.