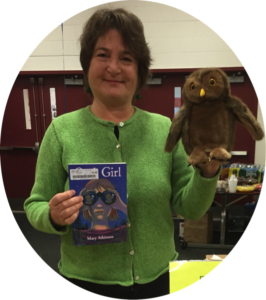 Writing has always been a huge part of my life. I've been writing stories, poems, and plays from the time I could hold a pencil. I started keeping a diary in third grade and haven't stopped since.
When I was five-years old, my uncle gave me A Child's Garden of Verses, by Robert Louis Stevenson. It was the first book I had for my very own. I was already skipping around to nursery rhymes, but that book introduced me to poetry. When, in fifth grade, we had to memorize a poem every week, I never complained!
Right after I finished high school in Boston, MA I went to live in Spain for two years before going to Antioch College in Yellow Springs, OH. Those two years in Madrid opened up new worlds for me. I loved learning Spanish and experiencing new cultures. I was inspired to learn about Hispanic cultures in Central, South, and North America.
For many years I was a teacher. I loved working with my students, but a life of writing and raising my own children kept tugging at my sleeve. I decided to work as a freelance writer and educational consultant to allow more time for my own writing.
My poetry for children has appeared in magazines and anthologies, and my fiction and non-fiction have been published widely in educational markets.