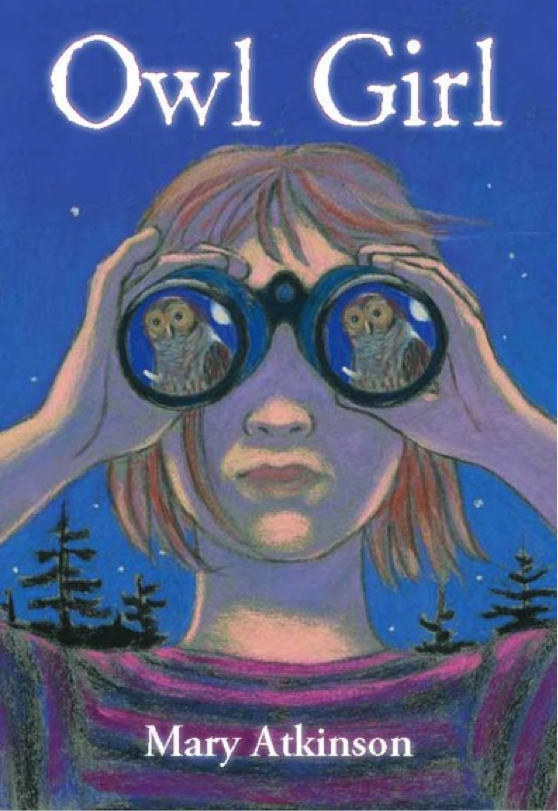 Holly's stuck at the lake for summer vacations. Usually, she loves the lake. But not this year. This year, Mom and Dad aren't staying. She's not going to have any fun. Her older brother Nick won't play with her, and Gram never lets her do anything. When Holly hears the ancient and mysterious call of an owl, she's certain he's calling just to her and that she must find him.
Recommended for ages 6-10.
$14.95 162 pp
or if you would like a signed copy, please contact me.
Reviews & Inspirations
A Barred Owl and the Nudge to Write
---
Read Chapter 1
Holly loved driving through Maine in summertime. She loved passing miles of leafy green trees. She loved the back roads curling into the hills like ribbons. She loved the endless sky. Whenever Holly came to the countryside, she felt light inside, like she could spread her arms and fly.
But not this time. This time she felt weighed down with worry.
She sat in the backseat with her dog, Bonk, and her older brother, Nick. Nick had ignored her the whole way, of course, listening to his iPod and reading his stupid car magazines.
Bonk laid his big black Lab head in her lap. Good ole Bonk. He always knew how to make her feel better. She took one of his ears and flipped it back and forth between her fingers. It was warm and velvety and calmed the jittery feeling in her stomach.
A little bit.
Soon the row of mailboxes with the little red flags whizzed past. Almost there, she thought.
Next came the sign pointing the way: Padgett Lake—Turn Right. Dad drove the car off the paved road and onto the dirt one. Barely a mile to go. Usually, this was where she'd sit up to look out the window, super excited about spending two lazy summer weeks at the lake with Gram and Gramp.
But not this year.
This year Mom and Dad weren't staying. This year they were going away on their own vacation. Holly slid Bonk's head off her lap and leaned forward. She tapped Mom on the shoulder in the front seat. "Do you and Dad have to?" she asked.
"Have to—?"
"Go to that lodge," Holly said.
"Yes, sweetie. Remember I told you? Sometimes moms and dads need time to themselves," Mom said.
Sure, she remembered what Mom had told her about going on vacation alone with Dad. But she also remembered overhearing Mom's conversations with Gram on the phone. About the "troubles" she and Dad were having. About the "rough patch" they were going through. About how they could use a little time together to work things out.
But sometimes, Holly knew, parents didn't work things out. Like her friend Liza's parents. Now Liza had to go back and forth between her mom's and dad's houses.
"You and Dad can have plenty of time to yourselves at Gram and Gramp's. Nick and I won't bother you. Right, Nick?"
Nick turned a page in his magazine.
She poked him in the side. "Right, Nick?" she shouted.
"Huh?" He slipped out one of his ear buds.
"You'll be fine, sweetheart," Mom said.
Holly crossed her arms over her chest. "No I won't. Nick won't play with me. And Gram never lets me do anything."
Worrywart Gram with her manners and rules. It was okay when Mom was around, but when Gram was in charge, she never let Holly do anything.
Mom turned around and looked at her. "I'm counting on you, Holly. To be a good sport," she said. "Can you do that for me?"
"I guess."
"Promise? Pinkie-swear?"
No way she wanted to be a good sport, but when she saw the asking look in Mom's eyes, she linked pinkies. "Promise," she said. "Pinkie-swear."
After Mom's finger slid away, Holly opened her car window and took in a deep breath of air. All along Padgett Lake Road, the trees and ferns and wildflowers danced in the breeze. A chipmunk darted into the woods. Clumps of fat blackberries dangled from bushes, waiting to be picked.
Suddenly, she itched to get out of the car. "Can I start walking now?" she asked.
"Do you remember the way?" asked Mom.
Dad stopped the car. "Of course she remembers the way. We've been coming up here ever since she was born."
"I meant," Mom said, in the impatient voice she used with Dad these days, "that all these camp roads look the same. She might make a wrong turn. She could get lost."
"Don't be ridiculous. You're not going to get lost, are you, Holly?" Dad's eyes met hers in the rearview mirror.
Were they going to get into a fight now, even about this, even about her?
Nick coiled his ear buds around his iPod and put them in his pocket. "I'll take Holly," he said.
"Thank you, Nick," said Mom.
"I don't need anyone to take me. I'm not a baby."
Nick opened his car door. "Come on, Holly. I'll race you."
Holly got out of the car and Bonk followed. His dog tags made jingle-jangly sounds as he jumped onto the road.
As the car disappeared down the road, and Nick adjusted the straps on his sandals, Holly tightened her fists. She forged ahead with Bonk lumbering by her side. But as soon as Nick caught up, Holly slowed down.
The scent of hot sun on pine needles filled the air. Pieces of Padgett Lake glittered through the trees like diamonds. A woodpecker knock-knock-knocked against a rotten tree.
"Hi, woodpecker. Hi, lake. Hi, trees," whispered Holly. Let Nick race ahead of her and get there first. He always won anyway, and this time, Holly was in no hurry.